Home renovations can be tricky. There's a lot to consider and as a new owner of an older home, there are also some unknowns. Many homeowners who are renovating don't uncover these until the walls start coming down and exposing what really lies beneath. Another factor to consider when renovating a home is what to spend. Are you able to add value that you can get back out, or are you making it into your dream home and don't care about resale? Whatever your end goal is with a home renovation project, there is a tangible benefit and return on investment when you look to replace old windows and doors. This article will discuss in more detail the pros and cons of upgrading old windows and doors in your home renovation project, including construction costs, energy savings, and resale.
Construction costs to consider when adding folding sliding windows and doors to your renovation
A cost-benefit analysis should be run before undertaking a renovation project, especially if you're looking to flip the home in a short period of time. Homes built prior to ten years earlier can benefit from new windows and doors. Not only because they're more energy-efficient but they also vastly improve a home's look and feel. Not everyone has a budget to replace windows and doors, or certainly not all of them. It's recommended to take a walk through your home renovation project with a window and door expert. They can help you determine if your existing windows and doors are viable to last longer than you plan to be in the home. On the flip side, they can also tell you if they need to be replaced because they are too old and will cost you more in the long run for heat and energy loss.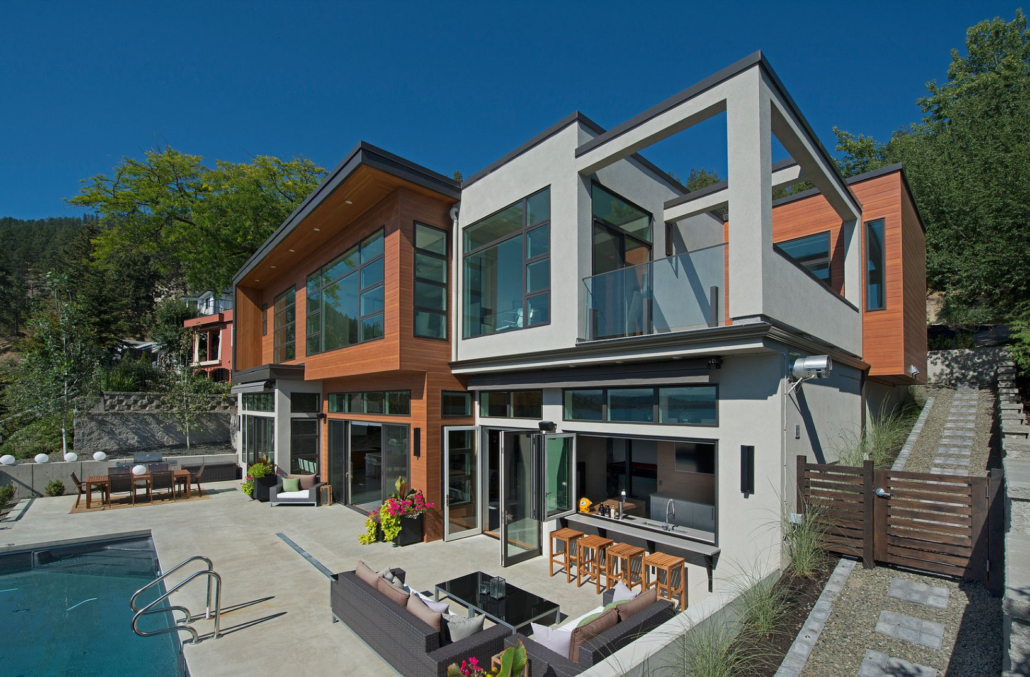 Your builder, contractor, or window and door provider should be able to guide you through this process. If it's simply aesthetics that you want to change on your renovation project then folding sliding windows are a great place to start. Take a walk through your home and imagine where you'll spend most of your time. For example, if you love to entertain then you might have some grand ideas about where you want to spend your time and energy. Opening up your rec room to a pool deck or peaceful garden space might be high on your list of priorities. Or, maybe you love to cook but don't want to miss any of the action happening outside. In that case, a folding sliding window in your kitchen might be the best possible solution to keep you involved while adding a functional pass-thru space for guests.
Costs in a renovation are subjective. It's all about your lifestyle and what you place value on. If you value more space, energy efficiency, and a connection to the outdoors then you can't go wrong with a folding sliding window or door unit. You'll have to consider the construction process when adding a new folding sliding door. Supports and proper framing are all big considerations that are generally not stock on older homes and will require an upgrade in order to fit a new folding sliding unit.
Energy savings are guaranteed when you upgrade your windows and doors in your home renovation
Another big concern when renovating an older home is how to bring up the energy efficiency. Glazing, materials, and hardware technology have evolved within the window and door industry. This space has seen immense change even in the last 5 years. It's highly likely that you will want to replace a few doors, and windows, and look at efficiently sealing your home from the outdoor elements. Older homes can be drafty, not only is this bad for heat loss but it's also uncomfortable for owners. A new window or door will ensure that the unit is sealed properly to today's standards. You can also speak with your energy supplier e.g.: Fortis to see if there are rebate programs available for upgrading your windows and doors. Programs like these can help to reduce costs in the short and long term.
There's no doubt that new windows and doors will increase the efficiency of your home when installed properly. Overall, new windows and doors are a good investment for future savings and more comfort inside your home, especially during inclement weather!
Will a folding sliding window and door add value to your renovation?
Adding value to your home renovation is another area you might want to discuss with your builder and/or REALTOR before you begin. There is an intangible value that can be attributed to your lifestyle, such as making your backyard more accessible and useable. Then there are the tangible benefits added to the market value of your home. These can be found in improved energy efficiency and increased square footage. Updating a front door to a bi-fold french door with beautiful hardware will not only boost your curb appeal but it will also add security through the multi-point locking hardware. There are benefits to adding new windows and doors to your home renovation on both sides, resale, and lifestyle.
Are you starting a home renovation project and want to learn more about adding value with new windows and doors?
Contact our team of experts today and let's get started! We would love to help you start the planning process and help find the perfect solution for your home renovation project. Our team is always ready to help, so get in touch with us now!