Brio's 612 Retractable Pleated Insect Screen
Brio's 612 Retractable Pleated Insect Screen offers an innovative and functional solution to screening large openings while protecting your home from annoying insects. With a span of up to 40′ wide and 10'6″ high, the versatile 612 Retractable Pleated Insect Screen is the perfect option for screening a wide range of architectural openings such as bi-folding doors.
With the Brio 612 track width being only 1 ⅛" width and our track being only 4″ width this means that it will fit with in your typical 2×6 construction with no additional furring out of your wall or additional bulky trim being required.
NOTE** Only available in Black frame/mesh.
Brio Weatherfold 4s Exterior Folding Door Screen Hardware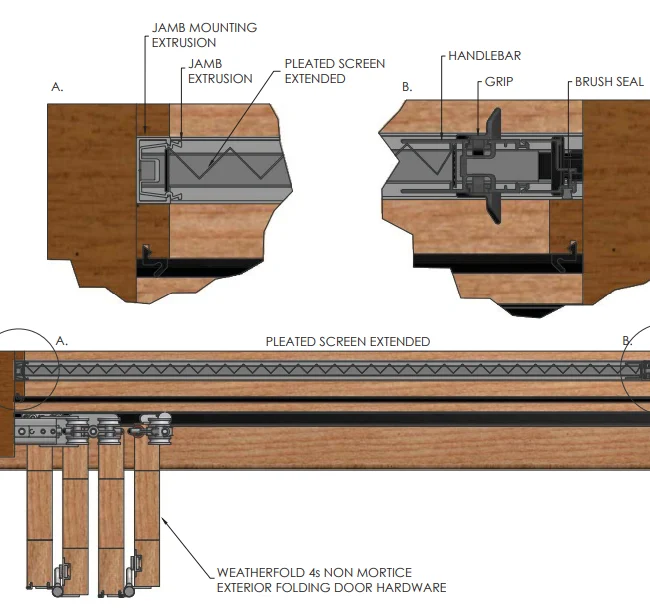 High-strength, braided tensioning cords run horizontally to stabilize the screen and control the vertical orientation of the handlebar.
These tensioning cords run over multiple precision bearings to ensure the high-quality, European polyester mesh slides smoothly with a low operating force. The use of precision bearings significantly increases the screen's life.
The tensioning cords help support the mesh during moderate weather conditions. The mesh has been designed to leave the channel in windy conditions as a safety feature that helps prevent tearing.
If the screen does leave the channel it can be easily placed back inside.
Dimensions
Min Screen: 36″(W) x 30″(H) (914mm x 762mm)

Max Single Screen: 20′(W) x 10'6″(H) (6096mm x 3200mm)

Max Double Screen: 40′(W) x 10'6″(H) (12,192mm x 3200mm)
Sliding Door System with a Built-in Bug Screen
Bugs and pests are no match for a BRIO screen! Extend your outdoor living throughout any season when you add a built in bug screen from industry leader BRIO. Screens are the ideal choice when it comes to creating a fresh, open-air environment for your home or business. 
Folding Sliding Doors Canada is pleased to offer BRIO screens as an add-on to your project. BRIO is a leader in folding sliding door technology and their products are durable, safe, and proven to last. If you're looking for an option that will allow you to confidently open your walls and windows to the outdoors without the pesky critters, then look no further than the addition of a BRIO screen. 
Get in touch with us now to learn more!