FD 73
ALUMINUM EXTERIOR / SOLID WOOD INTERIOR
FOLDING SLIDING WINDOW SYSTEM
FD 27
UPVC
FOLDING SLIDING WINDOW SYSTEM
Folding Sliding Window Systems provide flexibility and openness!
The FD 27 UPVC folding sliding window system is an affordable option for the timeless look of open-air space. The UPVC models are popular with homeowners and developers who are looking to emulate a high-end design feel without breaking the bank. Open-air design is becoming increasingly popular and the FD 27 solves a multitude of challenges faced by designers today. With its design flexibility, durability, and price point this is an economical solution to creating an opening wall of windows. 
Easily open your folding sliding window unit with one hand to enjoy full access to your outdoor spaces. Open window systems are luxurious in primary suites, kitchens, bars, and enclosed patios. 
The craftsmanship that is poured into each glass window wall is of the highest quality. This ensures that your new windows and doors are durable and designed to withstand the elements. 
Open up to a new window solution with the FD 27 and experience a whole new way to enjoy your home! Get in touch with us to learn more!
Standard and custom colours are available for the FD 27.
Standard finish in a powder coat that meets AAMA 2604 specification, provides low maintenance, excellent durability, and resistance to fading chipping, and peeling.
Stock colours available are black and white.
This series is only available in the same colour inside and out.
Custom-matched colours available as an extra cost item. (Click here)
This series is only available in the same colour inside and out.
FD 27
UPVC
FOLDING SLIDING WINDOW SYSTEM
INDUSTRY-LEADING FEATURES!
Superior craftsmanship sets the FD 27 folding sliding window system apart!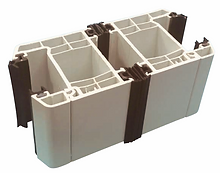 FSDC HOPPE Dallas hardware in Black and Brushed Chrome finish.
Concealed multipoint locking system for ease of operation and minimal maintenance.
Up to 20 panels, 10 in each direction.
Sill option that suits weather performance and flush floor transitions.
Dual and triple pane glazing options are available to meet all thermal performances.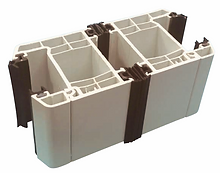 SPECIFICATIONS U-VALUE's: 1.8 - 1.19
Door Material:

  Ultraviolet (UV) protect PVC: uPVC
Profile Width: 
Profile Thickness: 
Panel Height Range: 
Panel Width Range:
Glass Units: 
Our products are manufactured with pride and care, but on the extremely rare occasion that a problem arises, we ensure that it is solved with as little inconvenience and hassle to the customer as possible.
10-year warranty that all products shall be free from defects in material and workmanship.
5-year warranty on all locks and handles.
10-year limited warranty against cracking, peeling, and gloss & color retention on all exterior finishes for most aluminum profiles.
20-year manufacture limited warranty against seal failure
The only exception to the unlimited guarantee promise is general wear and tear of the unit where damage has been caused or the door has been incorrectly used abused and not maintained over a period of time.
This guarantee means that when you invest in a Folding Sliding Door Company product, you're investing in peace of mind for years to come.​
For full warranty details please review the attached:
Windows and Doors That You'll Want to Share!

Heather Delisle
We had them installed in our bedroom last summer. What was once a dark brick wall is now a wonderful view and access to the great outdoors! So glad we did this!

Mike Proctor
From the office staff to the lads on the frontline, great service. I was delighted by how helpful and positive everyone was. If you buy their products you can be assured that they're after sales care is second to none. Thank you.

Jeremy Newel
The go-to place for custom Folding sliding doors in the Okanagan. Excellent quality products at a competitive price point. Experienced and knowledgeable team. It has always been a pleasure working with them.
GET A FREE QUOTE TODAY!
Folding Sliding Doors and Windows are made for living! Get a quote today on your next commercial or residential project from Folding Sliding Doors in Canada.