Sliding Glass Doors - Letting "ALL" Of The Light In!
Large sliding glass doors can be a fantastic addition to a home for various reasons, enhancing both aesthetics and functionality.  Here are 5 strategic reasons for why you might want one in your home.
Quick links: Large Sliding Patio Doors | Oversized Sliding Glass Doors | Big Sliding Glass Doors | Giant Sliding Glass Doors | Modern Large Sliding Glass Doors
Large Sliding Patio Doors Let in Natural Light
Sliding glass doors provide an abundance of natural light, making your living spaces brighter and more welcoming. This can help reduce the need for artificial lighting during the day and create a more cheerful atmosphere.
Oversized Doors Create an Indoor-Outdoor Connection
Large sliding glass doors seamlessly connect your interior living space to the outdoors. This promotes an open and spacious feel, blurring the line between your indoor and outdoor environments. It's great for entertaining and enjoying the outdoors without leaving your home.
Big Sliding Glass Doors Create Panoramic Views 
If your home is situated in a picturesque location, such as near a beach, in the mountains, or overlooking a garden, large openings can frame and showcase these views beautifully.
Giant Sliding Glass Doors Create Ventilation
That's because they often have a screen option, allowing you to let in fresh air while keeping bugs and pests out. This can enhance cross-ventilation, which is especially beneficial during warm seasons.
Modern Large Sliding Glass Doors Improve Energy Efficiency
Modern sliding glass doors are designed with energy efficiency in mind, featuring double or triple glazing, low-E coatings, and thermal breaks. They help insulate your home, keeping it cooler in the summer and warmer in the winter, which can lead to energy savings.on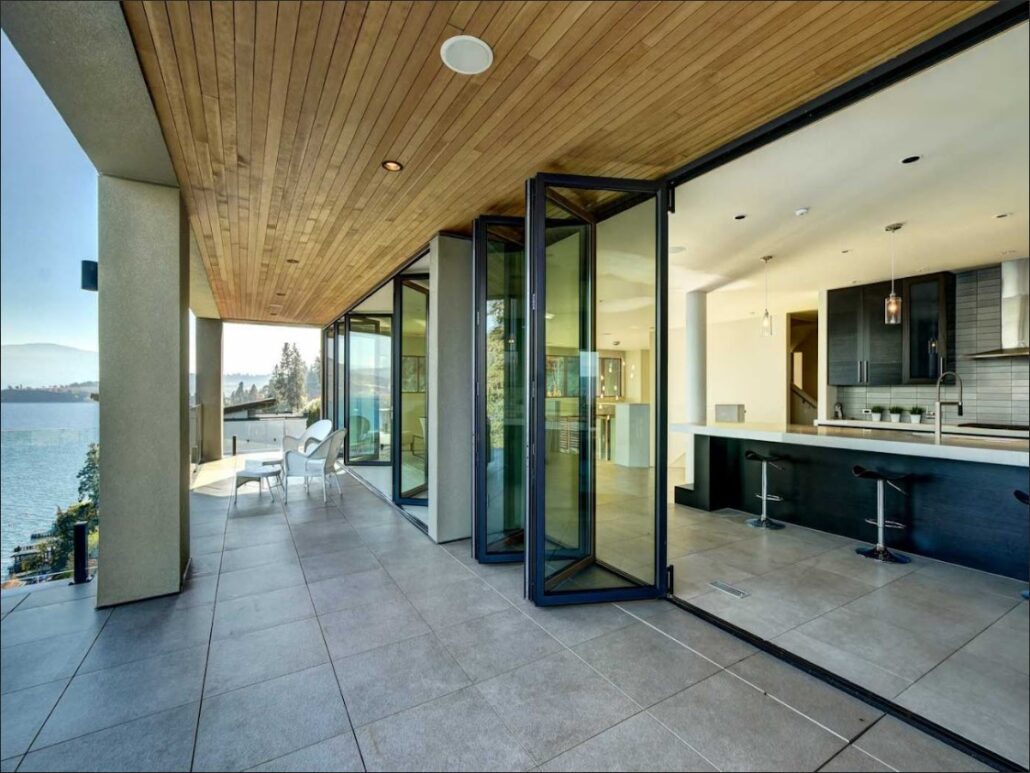 Discover the transformative power of our various products – the home upgrade you've been waiting for!  Our satisfied customers consistently express their wish for having embraced these stunning additions sooner. Folding sliding doors don't just redefine your living space; they add tangible value to your home and elevate your lifestyle.
Embrace a harmonious fusion of indoor and outdoor living with a modern upgrade. These products create a resort-like atmosphere within your own home. Whether it's entertaining guests throughout the seasons or savoring the fresh air. Our doors, enhanced with BRIO screens, provide the perfect solution.
Our sliding glass doors come in a versatile range of customizable options. This is to allow you to align them seamlessly with your design preferences. Choose from premium materials such as aluminum, solid wood, and UPVC. There's a perfect match for your style while accommodating diverse budgets. The inclusion of top-tier multi-point locking hardware from industry leader Hoppe reinforces security and peace of mind.
When it comes to performance, our products stand out. That's because we offer cutting-edge features like security, energy efficiency, and high-performance glass from Cardinal Glass Industries. These doors are engineered to surpass expectations, ensuring your home is not only aesthetically impressive but also functionally exceptional.
Be prepared to awe your guests as you unveil the expansive possibilities of your living space with our door systems.  If you have a breathtaking view that deserves the spotlight, these doors are the ideal choice for you. Dive deeper into the brilliance of our folding sliding door system – FD 73 or reach out to our team today to explore how our other sliding glass doors can transform your home and lifestyle.  Don't wait – experience the difference today!
Visit us on Facebook to see more!
Getting a quote on your next folding sliding window system in Canada is easy! Fill out the information below and our team will be in touch with more information! We can't wait to hear from you!