If you've been to a trendy restaurant, cafe, or bar recently then you may have noticed that things are opening up. You aren't wrong! More and more business owners are adding folding sliding doors and windows to their commercial establishments. When COVID happened it fundamentally changed the service industry. Canadians who were running food service businesses during the pandemic were forced to add airflow to their establishments to stay on side with health authority rules and regulations. Many saw it as an opportunity to expand seating in the long term, by opening up their storefronts to sidewalk patios, alleyway seating, and more. In this article, we will touch on why folding sliding windows and doors are a smart choice for increasing your square footage for seasonal seating, adding airflow, and the added benefit of convenience for customers and staff. Keep reading below to learn more!
Increase the seating capacity of your service-based business
A folding sliding door in your commercial space will help connect your indoor dining space to the outdoors. By creating an outdoor patio that seamlessly integrates with your indoor dining room you'll make it seem like you've doubled in size overnight. Patios aren't just for summer weather anymore either. Reatauranteurs have gotten creative throughout the pandemic. They've added clear heavy plastic walls, gas heaters, and cozy furniture to create year-round outdoor dining spaces with plenty of airflow. The increased capacity for seating has allowed many business owners to allow for more permanent seating increases. They can increase their reservation space, hold special events, and allow for more space between customers if necessary.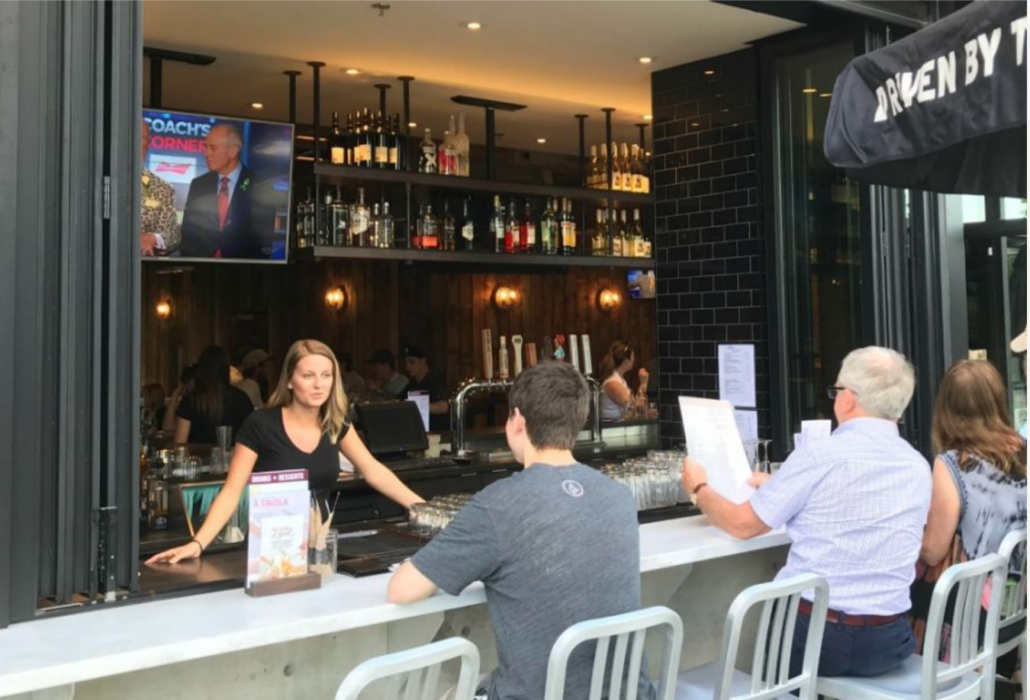 Cafes, ice cream parlors, and fast food providers love the ease of use afforded by a folding sliding window unit. They allow for easy service and connect you with patrons on the street level for quick orders. Coupled with portable payment devices, an open service window is where it's at for many coffee shops that have jumped on this trend in commercial real estate.
Add airflow to your commercial establishment
It doesn't matter if your restaurant is on a lake, in an urban center, or on top of a mountain, adding airflow by opening your space is attractive to customers. Something about fresh air makes for an enticing draw. It also helps improve the health and safety of your employees. Viruses thrive in closed spaces, by increasing airflow you'll likely see fewer sick days accumulate.
Convenience for customers and staff
Another intangible benefit of a folding sliding window or door in your commercial space is the convenience it affords. Servers can easily traverse between the patio and the interior dining spaces. They can take on more tables with ease as there is less in the way to limit their sight. Patrons are also more easily able to find their way. Gone are the days of trying to figure out where the patio is, because it's easily accessible with a folding sliding door system.
Are you hoping to increase your seating capacity?
Reach out to the experts at Folding Sliding Doors Canada. We would love to help you reinvigorate your patio space.