Are you looking to make some updates to your home this fall/winter? If you are, you may want to consider upgrading some of your home's doors to bi-fold doors. Installing bi-fold doors is a great way to change the look and usability of your home. From increased natural light to more versatility, making the switch to bi-fold doors can make your house all the more livable. Besides, if you are thinking of selling your property in the future, this home improvement project will enhance the value of your real estate.
In this article, we are going to be going over some of the benefits that come with installing bi-fold doors in various areas of your home!
Follow along below to learn more.
Why Install Bi-Fold Doors?
More Natural Light
A standout characteristic of bi-fold doors is their ability to enhance the influx of natural light into your living space. This is great for areas in your house that are particularly dark or don't get a lot of sunlight. Whether they are open or closed, bi-fold doors bring the sunshine into your home!
Less Space
Another perk of this style of door is that you get to save space! Our custom-made doors can fit in the smallest rooms while maximizing floor space. Unlike traditional doors, a bi-fold door's panels stack neatly against one another when they are open. This means that you don't need to account for the door's arc when opening or closing. Their space efficiency makes them advantageous for a variety of layouts!
Bring the Outdoors In
One of the most obvious benefits of a bi-fold door is its ability to seamlessly blend the beauty of nature with your indoor living space. Their smooth opening provides the perfect transition from your home to the world outside. Capture the view surrounding your property in its entirety with a custom bi-fold door!
They're Energy Efficient
Something that you might not know about our bi-fold doors, is that they are incredibly energy-efficient. So, if you're looking for ways to cut back your spending on monthly energy bills, some bi-fold doors might just be the answer! Their superb insulation keeps hot air out and cool air in during the summer, and vice versa during the winter.
They Look Great
This may be bordering on obvious, but we couldn't leave it out—our doors look great! No matter what style your home has, a bi-fold door only enhances its aesthetic. Because of this, our doors have become a feature that many buyers look for when searching for a home!
What Rooms in Your Home Can Benefit From Bi-Fold Doors?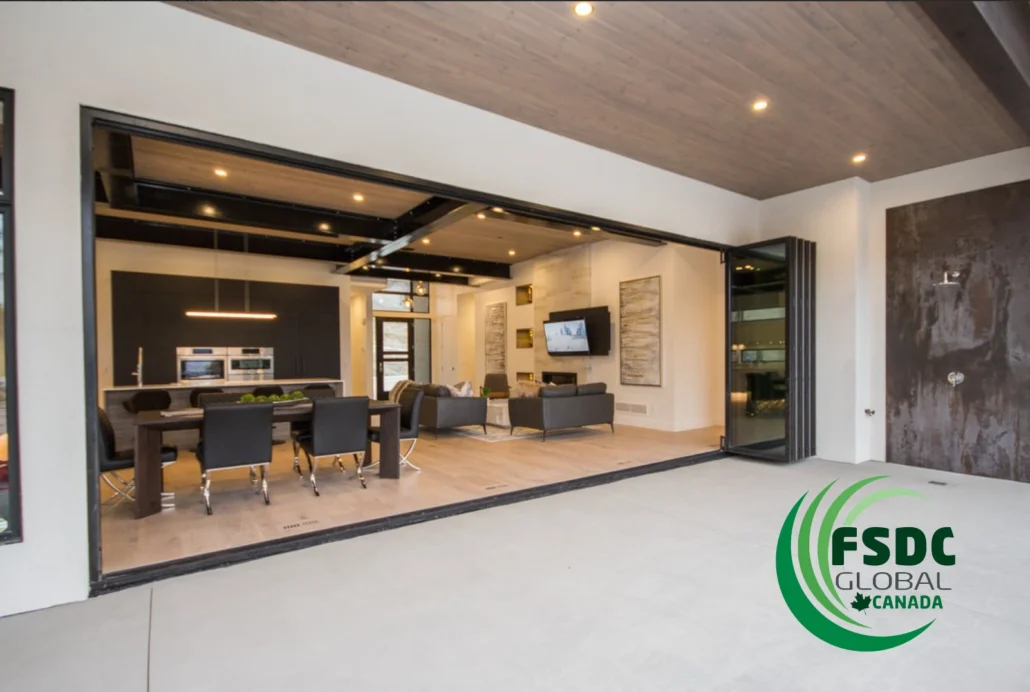 We think that any room could benefit from a bi-fold door, but we're a bit biased. So, here's a list of common rooms/areas that our clients ask to have a bi-fold door installed!
Entryways
If you want to wow your guests, a bi-fold door in an entryway is a must. From the way that they open to their grande aesthetic, there's no better way to make an unforgettable impression on your guests. The connection between the indoors and the outdoors is a perfect way to flood your entryway with daylight and enhance the beauty of your home.
Offices
Are you bored of your home office? In an office setting, bi-fold doors can transform the dynamics of the workspace and promote a more inspirational environment. They provide a perfect balance between an open-plan layout and the need for privacy. When closed, bi-fold doors efficiently divide the office area from other parts of the house, creating a focused and secluded environment for work.
Bedrooms
If you want to make your bedroom feel as luxurious as a five-star hotel, bi-fold doors are the perfect way to do so. Bi-fold doors in a bedroom leading to an outside patio or deck present a transformative and delightful architectural feature. This is especially true for bedrooms on upper-level floors. Take in the expansive views and bask in the sunlight with a bi-fold door in your master bedroom.
Contact us Today!
Bi-fold doors are an excellent way to accentuate the beauty of your home whilst saving space and bringing in an abundance of natural light. If you're interested in having bi-fold doors installed in your home, contact us today! We would be happy to help you discover the world of custom folding sliding doors.
Be sure to check out our social media for pictures of past projects we've been a part of. Also, don't forget to check back next month for more advice and tips. We look forward to working with you in the near future!